CIC Services has introduced a new captive insurance program that is a Game Changer, and middle-market companies are already lining up to take advantage of it.
Many middle-market companies were not large enough to consider replacing their commercial insurance through a captive…Until now!
The CIC Services' Bundled Program allows an insured business to do the following:
Replace their commercial insurance carrier with an A+ rated carrier

Keep their current policy language and terms

Keep the current policy limits

Keep their premium costs the same

Keep their existing insurance broker
AND…
      6.  The A+ rated carrier will reinsure 10% to 40% of the premiums received to a captive insurance company owned by the business or business owner
GAME CHANGING!
How Does The Bundled Insurance Program Work?
The infographic below illustrates how the CIC Services Bundled Captive Insurance Program works.  The infographic illustrates annual commercial insurance premiums of $1 million as an example.  For most programs, annual commercial insurance premiums of $250,000 or more could be good candidates for the Bundled Program.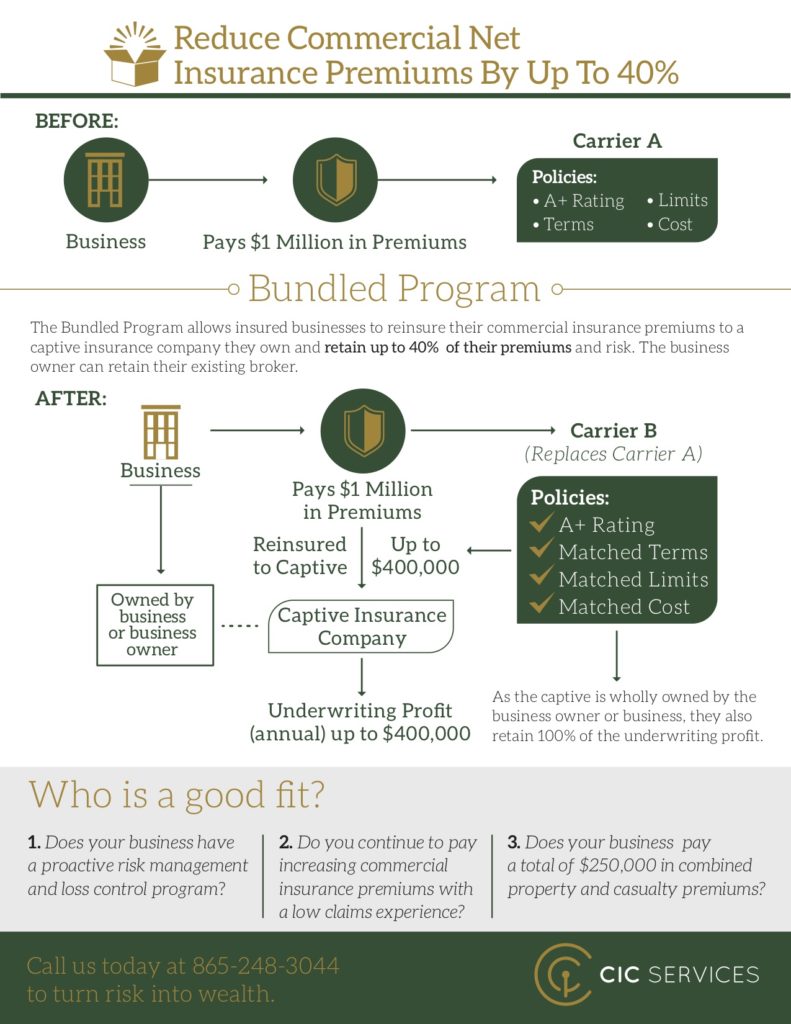 What is Captive Insurance?
Captive insurance is a formal method of self-insurance and enables businesses and business owners to participate in risk and keep all or a portion of insurance profits.  Underwriting profit can be invested and carry over from year-to-year, making the captive stronger financially and helping to control the cost of traditional insurance.  Captives can often receive favorable tax treatment to help them quickly accumulate assets and loss reserves. 
What is the CICS Bundled Program?
Operating in concert with an A+ rated carrier, experienced underwriters, and third-party actuaries, the CIC Services' Bundled Program allows a business to own a captive insurance company without the high transactional costs and minimums that have typically closed the door to self-insurance for smaller companies.  Businesses that participate in the Bundled Program are not required to purchase a fractional share of an already established group captive.  Each participating business owns and controls 100% of its individual captive insurance company.
Who is A Good Fit?
Does your business have a proactive risk management and loss control program? 
Do you continue to pay increasing commercial insurance premiums with a low claims experience? 
Does your business pay a total of at least $250,000 in combined property and casualty premiums? 
If you answered yes to the questions above, your business could be a perfect fit.
How Do I Get Started?
Contact CIC Services today and we'll perform an initial no-cost analysis of your current insurance program to help you determine if owning a captive insurance company through the CIC Services Bundled Program is right for you and your business.
Change the game.  Take back control and keep your hard-earned premium dollars.  Contact CIC Services today!